Well it has been a few months since I got any games in. One thing I have notticed aroumd the internet are the amount of specialist tournament beatdown army lists out there. What the has happened to the hobby? I have only played a few tournament and I'd rather play a friendly game, stop trying to humilliate your opponent and just play to play.
XV6 Crisis Battlesuit Team Green
"For the Greater Good!"
My favorite army has to be the Tau Empire, though I don't really know why, I've probably lost more game with them then with my other armies. I seem to do better with melee armies like the Orks, or the Emperor's Children.
Lucius the Eternal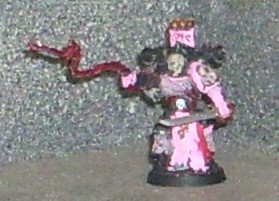 The Sadistic Commander of the Emperor's Children